Wilbur and Que Watje--Friends and Contributors
to Texas Horticulture and Master Gardening
=================================================================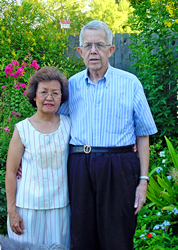 Wilbur Watje was in the Class 20 of the Bexar County Master Gardeners in spring of 1996. His wife Que didn't have to take the classes--she is naturally a Master of gardening--you should see her yard!!!
While in the Bexar County Master Gardeners, he worked closely with Dr. Calvin Finch on his Treated Timber Study to determine if the materials used to treat the wood leached into garden soil and/or was absorbed by the plants. The study determined that the plants did not absorb any of the slight amounts of chemical which might leach from treated timbers but to be completely safe, all root crops grown in close proximity to the treated timbers should be washed thoroughly before eating. This is true for all root crops no matter where they are grown.
Wilbur was also on the teams which conducted the first EvapoTranspiration (ET) studies. He collected the data and processed it to determine how much and how often different lawn grasses need supplemental watering.
Before Wilbur was a Bexar County Master Gardener, he was a friend and neighbor to Jerry Parsons. The Watjes and the Parsons moved into the Braun Station subdivision about the same time in 1979. Parsons quickly realized how organized Wilbur was and how he could fix any machine.
Wilbur was also a computer genius who could easily digitalize many old reports and horticulture publications for Parsons' PLANTanswers.com and Aggie-Horticulture PLANTanswers at:
http://aggie-horticulture.tamu.edu/plantanswers/index.html and make them look better than the original
document. Some of these documents have become the mainstay of these websites. Especially important are:
How to Grow the Tomato and 115 Ways to Prepare it for the Table
(Second Edition, August, 1936)

/Recipes/carvertomato.html

BULLETIN NO. 38 NOVEMBER 1936 - HOW THE FARMER CAN SAVE HIS SWEET POTATOES AND

WAYS OF PREPARING THEM FOR THE TABLE

/Recipes/sweetpotatoes.html

BULLETIN NO. 31 JUNE 1925 - How to Grow the Peanut and 105 Ways of
Preparing it for Human

Consumption

/Recipes/peanutrecipes.html

Our Vegetable Travelers -- The National Geographic History of Vegetables

http://aggie-horticulture.tamu.edu/plantanswers/publications/vegetabletravelers/index.html

Healthy Food Choices for diabetic Mexican-Americans

/Recipes/texmexdiabetic/

His expertise as a photographer were utilized in making the first digital images ever used for Texas Cooperative Extension Vegetable Variety Trials as shown at:
http://aggie-horticulture.tamu.edu/plantanswers/vegetables/2000watermelontrials/index.html
for watermelons
and
http://aggie-horticulture.tamu.edu/plantanswers/vegetables/2001tomatotrials/index.html
for tomatoes.
This practice of putting digital images with Extension data is now used throughout the Texas A&M System.
Wilbur worked tirelessly on a recently discovered San Antonio Encyclopedia of Plants written by the late Margaret Kane.
This over 400 page manuscript will soon be available on PLANTanswers.com thanks to Wilbur.
Of course, these are a few of the many things which have been accomplished by Wilbur and Que Watje. Wilbur's talents were often utilized to take images at functions such as the San Antonio Herb Market. Speaking of Herbs, Wilbur has also been asked to and has graciously contributed to the Parsons' Family history in the form of saving videos of Jerry Parsons--the early years on KENS television--and scanning information about Jerry's famous father, Herb Parsons, for use on the www.showmanshooter.com website.
Maybe the greatest contribution to Texas' horticulture has been the filing of hundreds of digital images taken by Jerry Parsons and other horticulturists in a searchable format which allows for quick retrieval of horticulture images for use in magazines, newspaper and national media as well as on various websites all over the world. Wilbur discovered the technique to catalog these images so all images of different subject matter can be instantly retrieved.
Yes, without a doubt, Wilbur and Que Watje are true friends of PLANTanswers and have contributed much to the horticulture world.
ONE OF THE MOST VITAL THINGS WILBUR DID FOR
ME WAS TO FIGURE OUT A WAY TO MAKE AN
INDEX OF MY DIGITAL IMAGES.
Below is a description of how to do it!
Create a text file list of the contents of a folder.
To create a file list of the contents of CDs, DVDs, or folders on the hard drive, we use old DOS commands. To simplify to process of getting to the DOS "Command Prompt", I use one of Microsoft PowerToys called "Open Command Window Here". This PowerToy adds an "Open Command Window Here" context menu option on file system folders, giving you a quick way to open a command window (cmd.exe) pointing at the selected folder. To obtain a copy of the program, it can be down loaded from Microsoft for free. This PowerToy works equally well with Windows 2000 and NT.
PART 1 -- Down load MS PowerToy Open Command Window Here
Go to http://www.microsoft.com/windowsxp/downloads/powertoys/xppowertoys.mspx, click on CmdHere.exe to download CmdHerePowertoySetup.exe and save to your Desktop. Double click on this CmdHerePowertoy icon on your Desktop to install on your computer.
PART 2 -- Making the file list from an open folder on hard drive, CD or DVD
This method works best when the folders have descriptive file names and the names are less than 64 characters long.
After installing the PowerToy use My Computer or Windows Explorer to go to the Folder, CD, or DVD that needs a file directory made. Right click on the item you would like to make to File list for and then left click on the Open Command Window Here option. A command prompt screen will open. For an open folder, open CD or DVD, type the following command at the command prompt - - dir/s/d> filename.txt - - where filename is the name of the list you are creating. Then press Enter. The file list will be saved in the folder you are working from.
dir - the DOS command
/s - A switch to displays files in specified directory and all subdirectories.
/d - A switch to control how the files are displayed
> - Output redirection operator. Tells DOS where to put the output file
filename - Name of the file you choose
.txt - Required to make a text file
For a CD or DVD that is closed and cannot be written to, use the following command at the command prompt –
- dir/s/d> C:filename.txt - - where filename is the name of the list you are creating. Then press Enter. The file list will be saved in the main folder of the hard drive (C:). Move it to the location where you would like to store it.
To edit or search the file, use a text editor, such as WordPad or Word to view, print or search for a file or key word.
Note: To make a file listing with no header information or summary.
Use the switch /b and do not use the switches /s and /d.