---

Milberger's Nursery and Landscaping
3920 North Loop 1604 E.
San Antonio, TX 78247
210.497.3760
nursery@milbergersa.com
Open 9 to 6 Mon. through Sat.
and 10 to 5 on Sun.




Three exits east of 281, inside of 1604
Next to the Diamond Shamrock station
Please click map for more detailed map and driving directions.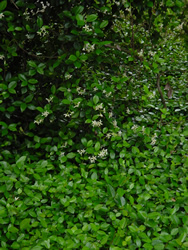 Question: Why is my Asiatic Jasmine blooming when it climbs into a tree?
Answer: When Asiatic Jasmine as well as other vines (English Ivy, Fig Ivy, Chinese Trumpet Creeper) assume an upright position or climb a structure, gravity exerts an effect on the plant hormones and causes it to convert from a vegetative growth to a reproductive growth. Some believe the climbing vine is deriving nutrients from the tree on which it is growing and that is what cause the flowering/fruiting cycle. This is not the case. Below is an image of Asiatic Jasmine blooming as it climbs into a Live Oak tree. Rooting of vines in a blooming/mature/reproductive stage is difficult to impossible.