THE MAKING OF A TREE
by Jerry Parsons, Ph.D.
Horticulture Specialist, Texas Agricultural Extension Service in San Antonio
One of the most dreaded moments in the life of a parent is when an inquisitive youngster asks the inevitable question "Where did I come from?"
After the unsuspecting parent picks himself or herself off of the floor, the ole stork routine begins or "modern" parents elaborate the truth which really confuses the kid.
Have any of you parents ever wondered "Where did my fruit tree come from?" Fortunately the explanation is not nearly as risque' as the answer to your child's question but maybe just as interesting.
The fruit tree you purchase in the nursery is an identical clone of a variety or type of tree which has been identified, tested and selected for possessing one or several desirable characteristics.
Trees are cloned by taking buds or some form of vegetation from the desirable parent tree and transferring it to a seedling (grown from a seed) tree. Cloning insures that all new plants will be the same as the desirable parent.
Is sex involved? Absolutely not! In fact, getting sex involved creates problems! The sexual part of a tree is its seed. Trees are heterozygous or hybridized and have many different characteristic potentials. Take for example seedling ash trees sold in Texas. Look at the ash trees around your neighborhood --some are tall with sparse foliage while others are short with thick foliage. Some lose leaves in October while others keep their leaves until frost.
In pecan trees, character extremes can be seen when pea-sized nuts are produced, versus large nuts.
Cloning and vegetative reproduction eliminate the variable risks involved with the sexual reproduction of using seed. This is why seeds of good-tasting apples, peaches, pears, or pecans should never be planted in hopes of growing a tree which will produce the same fruit. ONLY the seed of citrus will produce an identical type as the original fruit since citrus seed produce somatic (from a cell) seedlings which do not result from cross-pollination. However, to fruit a seedling citrus may require 5-7 years of thorny juvenile growth.
The odds of growing a tree from seed which will produce the same characteristics of the fruit which produced the seed is 10 million to 1. I like better gambling odds myself! A grafted or budded tree is a surefire winner.
There are other advantages to cloning rather than seedling procedure. The buyer gets two trees for the price of one --a good deal! I have mentioned the obvious advantage of insuring that the top portion of the tree produces a desirable fruit, but what about the rootstock or bottom portion of the tree? It too can lend certain desirable characteristics to the overall performance of the tree. One such desirable characteristic is dwarfing.
There are two categories of dwarf fruit trees.
One type is produced by grafting a normal, non-dwarf fruit variety onto a root system which exerts a dwarfing effect and causes the mature tree to be less vigorous and smaller than usual. This type is called induced dwarfs. There are many different dwarfing root systems which will produce an induced dwarf. Each has its own particular advantages and disadvantages.
The second and most available type of dwarf fruit tree is a genetic dwarf. The genetic dwarf refers to a variety which is naturally slow growing and small even when grafted on a normal, non-dwarfing root system. The genetic dwarf has a slow growing top on a normal root, whereas the induced dwarf has a normally fast growing top on a slow growing root.
So there you have it --everything you wanted to know about the life of a fruit tree but were afraid to ask. Select well-adapted fruit and nut trees with superior rootstocks for reliable results. Don't involve sex by planting a seed or you may be disappointed later. For a listing of recommended fruit and nut varieties for your area of Texas, see:
http://aggie-horticulture.tamu.edu/extension/fruitgarden/geographic.html
Some of the more commonly available recommended varieties are:
APPLES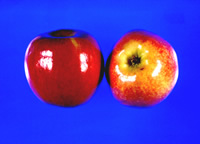 ANNA:
Yellow-green skin with red blush; sweet, crisp apple; pollinate with DORSETT- Ripens late June *- early July. (400 hrs.)
DORSETT GOLDEN:
Golden-yellow apple; sweet, firm, delicious type; excellent for eating and cooking, pollinate with ANNA; ripens late May. (400 hrs.)
GALA:
Golden-yellow fruit with red-orange blush; sweet, crisp, firm apple with excellent flavor: needs pollinating; ripens late August - early September. (500-600 hrs.)
GRANNY SMITH:
Bright green color; tart, firm, juicy apple; good for juice, eating, and cooking; excellent storage, strong and vigorous tree; thrives in hot climate; needs pollinating; ripens August - September. (600-700 hrs.)
MOLLIES DELICIOUS:
Light yellow skin apple with red blush; sweet, juicy, firm with pleasant flavor; excellent dessert apple; adapts well to mild - winter areas; needs pollinating; ripens late July - mid August (400 hrs.)
PEACH TREES
BELL OF GEORGIA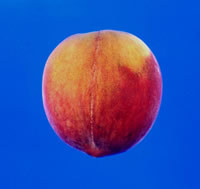 White fruit, freestone, no pollinator. Good for colder areas north of town. Ripens August*(800 hrs.)
DIXIELAND
Large freestone fruit with pink blush. Ripens late August. (750 hrs.)
EARLI GRANDE
Medium to large. Yellow skin with a red blush. Semi-freestone. Ripens late April to May. (275 hrs.)
FLORDAGLO:
Luscious, sweet flavor with white flesh; semi-freestone fruit; Self fertile; ripens late April (150 hrs,)
FLORDAPRINCE
Firm, yellow, flavorful flesh with a slightly course texture. Semi-freestone, Ripens May. (150 hrs.)
HARVESTER:
Yellow skin with even red blush, acidic, high quality freestone with fine texture; very productive, self fertile, ripens later June (750 hrs.)
LA FELICIANA:
Large, yellow flesh freestone; self fertile; ripens mid June - July. (550-600 hrs.)
LORING:
Very attractive yellow peach with red over color, large, firm, high quality freestone; tolerant to adverse spring weather; ripens June - mid July. (750 hrs.)
MELBA:
Juicy, honey sweet, white flesh fruit; will withstand low freezing weather during blooming season, ripens June - mid July. (850 hrs.)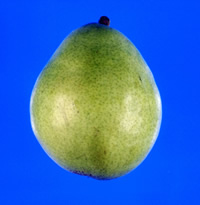 PEAR TREES
LE CONTE:
Medium greenish-yellow with blushed red, gritty texture. Most tolerant to summer heat, somewhat blight resistant. Pollinate with Keiffer, Orient or Moonglow. Ripens August. Low chill.
KEIFFER:
Greenish-yellow pear with red blush; crisp, sweet, juicy fruit, with coarse, hard white flesh, *popular for canning and cooking: good pollinator is ORIENT; ripens early October - November. (400 hrs.)
MOONGLOW:
Yellow color skin; soft, juicy, white flesh fruit with mild flavor; excellent eating pear; pollinate with ORIENT, ripens early August - September. (500 hrs.)
ORIENT:
Yellow russeted sweet, juicy pearl; creamy white flesh with firm, smooth texture; good for mild winter areas; use KEIFFER or MOONGLOW as pollinator; ripens August. (400 hrs.)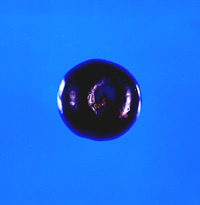 PLUM TREES
ALLRED
An ornamental, red leafed, flowering plum which has large, good eating fruit. Self fertile. Ripens July. (600 hrs.)
BRUCE
Large. Red skin, red flesh, delicious flavor. Needs pollinator. Ripens June. (800 hrs.)
METHLEY:
Reddish purple color plum with amber red flesh; large, juicy, sweet fruit; excellent for eating, jellies and preserves; vigorous grower and heavy bearer; self fertile but fruits better with pollinator, ripens June - July. (250 hrs,)
SANTA ROSA:
Purplish red fruit with amber yellow flesh; large, sweet, tangy, firm, oval plum; compact prolific growing tree; excellent for eating, jellies and preserves; somewhat self pollinating; ripens June - *July. (400 hrs.)
A CHILL HOUR IS ONE HOUR AT OR BELOW 45 DEGREES F.
GRAPES, BERRIES, FIGS
BLACKBERRIES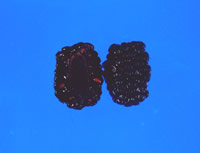 BRAZOS:
Large, fairly firm berry with tart flavor. high quality prolific producer, ripens early summer.
THORNLESS
Medium-large. Sweet but bland. Excellent for pies, preserves and jellies. Drought tolerant. Ripens June to July.
FIGS
ALMA:
Med-large yellow skin fruit: amber color sweet flesh; small hardy tree with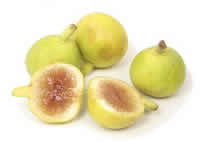 heavy crop; needs warm summer to produce well.
BROWN TURKEY:
Med-large copper brown fig, light pinkish amber color flesh; excellent quality for eating, canning, and jams, small low branched tree but prolific producer, likes good drainage and full sun.
CELESTE:
Small-med purplish brown skin; firm, sweet, juicy, pink color flesh, excellent quality for canning and preserving; large size tree; very cold hardy.
TEXAS EVER BEARING:
Med-large brownish yellow skin; delicious flavored amber fruit; excellent for preserves; long hardy producer; prefers moist areas in full sun.
GRAPES
CHAMPANEL: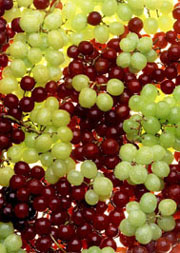 Large, black, thin but tough skin fruit; good juicy table grape with seeds; strong grower, does well in alkaline and black soil. very resistant to heat and drought, ripens early July.
FLAME SEEDLESS
Medium. Red skin with firm flesh. Good eating quality. Prefers plenty of heat during ripening period. Ripens late July.
SEIBEL 9110
Large whitish yellow fruit; good for eating and wine making; very cold hardy, ripens August - September.