The conventional system for growing tomatoes and peppers for Thanksgiving is: "Tomato and Pepper transplants should be in place by no later than August 15 if you expect to harvest a good crop before cold weather arrives in the San Antonio area. Hill Country gardeners should have planted by July 15th and South-of-San- Antonio gardeners should have their tomatoes and peppers transplanted by no later than September 15th." All of these dates are determined by "typical weather patterns" experienced in these regions by vegetable growers.
(See Fall Direct Seeding and Transplanting Guide at:
http://aggie-horticulture.tamu.edu/archives/parsons/fallgarden/falldirect.html). The pattern is generally: "Plant large transplants by no later than August 15; use heat-setting varieties; expect the first fall cool-down to occur a month after transplanting or around September 15; and this cool-down, especially of night-time temperatures, will cause blooms to set small fruit which will ripen in 50 to 60 days or by mid-to-late October." If the cool-down does not occur until October, usually the first hard frost will kill plants before tomatoes and peppers can be ripened on the vine.
Unfortunately, the conventional recommendations are ignored by a majority of gardeners until the first fall cool-down occurs around September 15. That is when enjoyable weather peaks the gardening hormones and gardeners flock to nurseries to search for transplants of their vegetable favorites – tomato being number one. This is the perfect time to plant the cold-tolerant, cool-season transplants such as broccoli, cauliflower, Brussels sprouts and cabbage but planting of tomatoes and peppers is generally discouraged unless extraordinary cold protection is to be used in December.
This fall, horticulturists in San Antonio are going to try to help tomato lovers "beat the odds" of a crop failure of late transplanted tomatoes and peppers. New, fast-maturing, heat-setting varieties of tomatoes and peppers combined with some recommended cultural practices are going to be our "secret weapons". We have "armed" local retail participating nurseries with "supplies" needed to make this a successful "mission". Some may refer to it as "Mission Impossible" and it may end up being just that if we don't get the weather conditions we need to mature this late setting fruit. What weather do we need beginning on Saturday, September 17? We basically need to have hot days (in the high 80's or low 90's) and cool nights (mid-to high 70's) from the day you get your transplants at your favorite participating nursery until mid-October. Those are the conditions for maximum plant growth, optimum fruit set and optimum ripening conditions . Tomatoes and peppers usually take 50 days from fruit set to the harvest of ripe fruit. That maturity length is for large fruited tomatoes (Celebrity, Sun Pride, Tycoon, etc.) and bell peppers. If however, smaller fruit-size varieties are used, the time interval from fruit-set to harvest of ripened fruit will be shortened. It would also help our overall yields if we could avoid having a hard (below 32 degrees F. for several hours) freeze until mid-December.
"If you decide to accept this mission", variety selection and watering is the key to success on this better-late-than-never fall-planting tomato and pepper experiment. For the tomato, we have chosen the fastest maturing, medium size, longest storage tomato ever put on the market by the Texas AgriLife Extension Service. It is named 'Surefire' and was the first Texas' SuperStar tomato introduced during Fall, 1992. 'Surefire' was judged to be the meatiest tomato and all agreed it would be the best for salsas, sauces and long-storage. Transplants of the 'Surefire' tomato variety should be planted as they have been proven to set and ripen fruit the fastest. Smaller determinate tomatoes such as 'Surefire' are more productive per square foot and should be planted two feet apart in the row or two plants per whiskey-size container (For instructions about growing in containers, see:
http://aggie-horticulture.tamu.edu/archives/parsons/misc/container.html).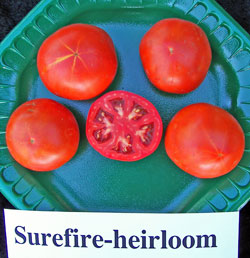 Surefire-heirloom Tomato.
To join 'Surefire' and for the first time in history, we are recommending the planting of a salsas – sauces, 'Roma' type tomato we will name (it is a numbered variety known as Heinz 9881) 'Roma-Surprise' and label it with a common 'Roma' tag. Extension horticulturists have been testing this variety for several years and are amazed at its production and good tasting (to us!!) fruit. There is a limited number of seed of this new hybrid so limited plants will be available for this experimental planting. Also, transplants of the most popular, heat-setting, best tasting cherry tomato (Dwarf Sweet Cherry; also known as BHN 968) will also be available.
| | |
| --- | --- |
| Roma-type tomato variety for late fall planting. | 'Dwarf Sweet Cherry' Tomato. |
For a bell pepper, we are recommending 'Rio Grande Gold.' Even though it is Jalapeno-shaped, it is in reality a BELCH-LESS Bell Pepper. Dr. Ben Villalon, retired Plant Pathologist and pepper breeder for the Texas AgriLife Experiment Station in Weslaco, Texas, created the no-complaints-possible pepper. It is the most versatile pepper ever. The fruit of this pepper is jalapeno - shaped and about twice the size of a large jalapeno. When the pepper plant sets fruit, the fruit is yellow. If left on the plant for several weeks the yellow fruit ripens to orange, then red. It has ornamental value as well as culinary uses. The peppers are sweet and can be used as a substitute for yellow or red Bell pepper to beautify cookery. It is a better choice than a Bell pepper since some people cannot eat bell peppers because of the serious stomach problem and subsequent belching which occurs. The sweet taste from all bell peppers comes from raffinose (a combination of three sugar molecules). Raffinose is notoriously hard to digest as it requires an enzyme called alpha galactosides which we don't produce. However, the bugs in our gut do -- and they love raffinose. It is a good source of energy for them so they get very active (and gas producing) when it is available. Obviously, the sweetness of the 'Rio Grande Gold' pepper is NOT generated by raffinose so NO BELCHING occurs. "But," say you chronic complainers, "we want a jalapeno!" If you want to create a pickled jalapeno (recipe at: http://www.plantanswers.com/garden_column/apr03/3.htm) which is custom-designed to your heat-tolerance level, now is your chance. Simply add one hot pepper (no need to slice!) to the top of a jar of these sweet jalapeno-shaped, colorful peppers before pickling or processing, and ALL of the peppers will become "hotter" comparable to the heat level of the pepper in the top of the jar. Characteristics of this sweet yellow wax type 'Rio Grande Gold' pepper is a strong main stem, sturdy branches and fruit-set at high temperature.
| | |
| --- | --- |
| Rio Grande Gold Peppers growing in a container. | Rio Grande Gold Peppers growing in a garden. |
| Color Changes of Rio Grande Gold Pepper fruit. | |
Regardless of how good the varieties and transplants are, if prior soil preparation is not adequate, you will be doomed to failure before you begin. If your garden has been deserted during this prolonged dry period, you must pre-irrigate to insure adequate soil moisture throughout the entire soil profile before you plant the first transplant. This can be accomplished by thoroughly watering (at least an hour) twice – 5 days apart. After the second watering, wait another 5 days, then dig and/or till the area. If weeds and/or grass are present, spray the entire garden area with a glyphosate (Roundup) herbicide (see safety factors at: http://www.plantanswers.com/roundup.htm) after the first watering and before cutting/removing the weeds and/or grass. A week later you can remove the weeds/grass, dig or till, fertilize with 5 pounds of a 19-5-9 slow-release fertilizer per 100 square feet (10 feet by 10 feet) and safely plant your fall garden. A slow-release fertilizer such as Osmocote for containers should be used in all potting mixes regardless of label claims of fertility being included. Transplants should be watered in thoroughly at planting with a water-soluble fertilizer (Miracle Grow, Rapid Grow, Peters 20-20-20, Hasta Gro, etc.). Water-soluble fertilizer should be used EVERY time your vegetables are watered in a container in addition to having a slow-release fertilizer in the potting mix. The best way to insure success with this plan is to use drip irrigation on ALL fall planted crops – ESPECIALLY WITH DROUGHT RESTRICTIONS. More information about drip irrigation can be found at: http://www.plantanswers.com/garden_column/july04/2.htm

Successful Fall gardening is easier when using drip irrigation.

Fall Cucumbers respond to the targeted water of a drip system.

Drip systems can be automated.


Fall cole crops respond well to drip irrigation.


Establishment and an abundant harvest of fall tomatoes depends largely on drip irrigation.
Then sit back and wait for the Thanksgiving and Christmas feasts. Cold protection techniques are described in November articles at: http://plantanswers.com/garden_columns.htm and http://plantanswers.com/calvin_finch_articles.htm. When temperatures cool, fruit will require longer to ripen on the plants. To stimulate and enhance fruit ripening, we are recommending that all tomatoes and peppers be caged at planting and all stems be kept within the cage structure. All plants and fruit should be wrapped with clear plastic on the first of November. Leave the top one-fourth of the plastic open. This flap will be used to completely cover the caged plants when the first hard frost occurs in early December. Anchor well all covered structures in anticipation of windy-weather cold fronts, i.e., "Blue Northers".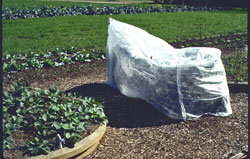 Cover plants and fruit with clear plastic for cold protection and fruit ripening.
Gardeners, if this plan fails, area horticulturists will disavow any knowledge of this "operation". However, if it succeeds in putting garden-fresh tomatoes and peppers on your Thanksgiving table, we will definitely avow EVERYTHING that happened!