Water is an essential element, without which life cannot be long sustained. Civilization's first settlements sprang up around rivers due to irrigation and transportation needs. Soon various aquatic and bog plants were recognized as a source of food and shelter. Certain aquatic plants also provided food, such as rich, which is the most important crop species in the world.
Water gardens thus had their beginnings in the fabric of both human history and the processes of Mother Nature. Water plants create conditions suitable for pests and diseases affecting humans, domestic animals, and crop plants. Some water plants were even singled out as having religious significance. In the Orient, particularly in China from around 2700 B.C., nelumbos especially had religious connotations and were esteemed for their medicinal properties. Later, nelumbos spread to Egypt.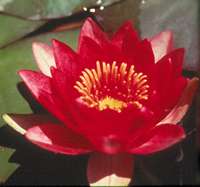 Widespread though reverence for the lotus has been, most of our knowledge concerning the early uses of water plants has come from ancient Egypt, where nymphaeas, nelumbos, and papyruses in particular are widely represented on tomb wall paintings, found as dried blossoms in sarcophagi, and reproduced as decorative elements on pillars and columns in architecture. The use of flowers for social purposes was tremendously important to the ancient Egyptians. Following the anointing ceremony at a nobleman's reception, servants presented each guest with a lotus flower that was then either held in the hand or attached to the head before visitors entered the reception rooms. At some period in their history, Indian poets have likened many parts of the human body to the Nelumbo. To the Chinese it typified female beauty, while the Japanese considered the plant an emblem of purity since the splendid flowers grew unsullied by the muddy waters of its habitat.