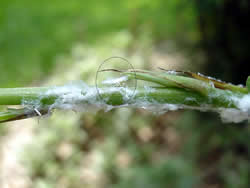 Question #1: I have a 15' Elm with sticky clear material on the upper
leaf surface and powdery white stuff on leaves and stems. Is this
dangerous to my tree? Can I treat it?
Question #2: I have discovered a white pasty coating on the tips and at
some branch intersections of some of my young Oak trees - could this be
a fungus? What action(s) can you suggest I take?
Answer: This insect seems to be rampant this year. This identification
and information was provided by Dr. Mike Merchant, Texas Cooperative
Extension Urban Entomologist: It looks like Metcalfa pruinosa, a small
leafhopper most notable for its production of wax. This critter is not
believed to cause substantial damage to most plants, apart from the
messy appearance of the wax. There is no common name that I know of.
Control with horticultural oil, soap, or one of the systemic
insecticides, if needed.