Some of the most requested information on Aggie Horticulture-PLANTanswers is the poisonous plant list at:
Many poisonous plants have beautiful blooms such as this oleander

Children are immediately attracted to these beautiful blooms.

Even though a child may accidently consume an oleander bloom DON'T PANIC. Deer often eat blooms from oleanders--they DON'T eat the foliage or the stem.
http://aggie horticulture.tamu.edu/plantanswers/publications/poison/poison.html People are VERY concerned about their children and pets (not necessarily in that order!) eating poisonous plants and dying. To prove that children, at least, are "smarter" than that, I took my one-year-old grandson, Cody Knight, for a stroll around the neighborhood. The following images tell the story: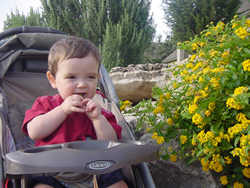 Of course the first place a child uses to LOOK at a plant is his mouth.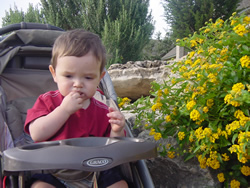 Luckily to really harm a child would require the ingestion of much more than most children can bear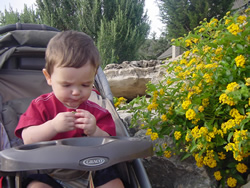 Even a small piece of lantana leaf and bloom ....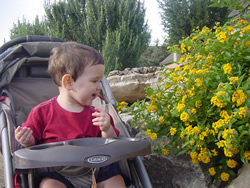 . ...as soon as they hit the tongue.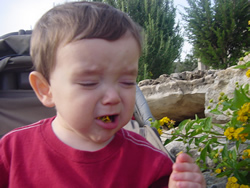 ...can quickly signal to the child that this is NOT something he should be eating!!!.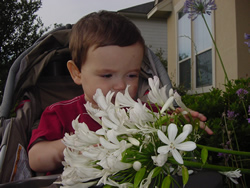 Some pretty-flowers-which-look-good-enough-to-eat are Agapanthus umbellatus. Agapanthus is a name derived from the Greek words agape and anthes, meaning "flower of love", agapanthus is the best known and most cherished of South African flowers but it is not recommended for eating.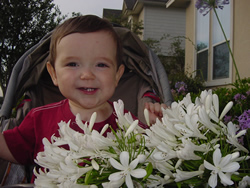 These beautiful flowers must be edible!!.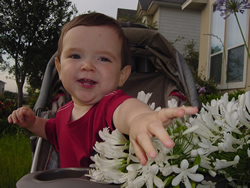 This boy can hardly wait to sink his few teeth into these beauties.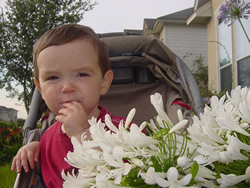 Cody is a bit cautious after the lantana experience.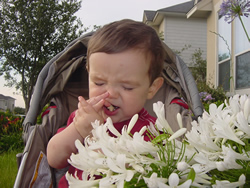 Even though this sort of looks like an onion bloom, it is the flower of a bulb which Cody detects is not not the best thing for this one-year-old to be eating!!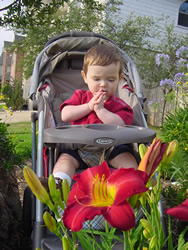 Still on the trail of a good-tasting edible flower Cody happens upon a daylily.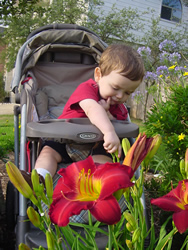 He eagerly grabs a handful.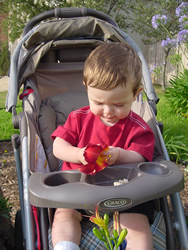 . ....and tear off a flower to try.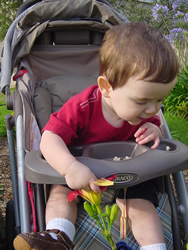 He reconsiders and remembering the last few flowers he tried he decided to start with just a piece.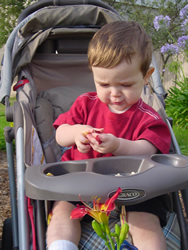 After carefully examining the piece of flower....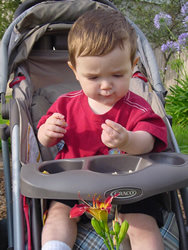 ...he decides to give it a try.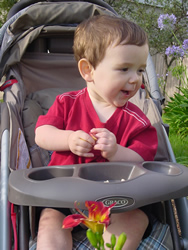 To his delight he likes what he is tasting and ....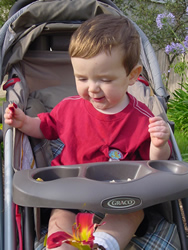 ...gets another handful.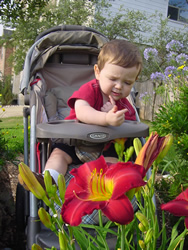 To help choose the best edible flower Cody recommends the following list.
Many garden flowers can be used as edible garnish or to lend flavor and color to a cooked dish. But be sure to read up before you begin...some flowers can lead to upset stomach, or worse, if eaten in large quantities.
Blossoms of borage, chrysanthemum, cornflower and Dianthus can float in a bowl of soup or punch. Violet, miniature rose, lavender and honeysuckle blooms add a sweet flavor to salads or desserts.
Beautiful Honeysuckle blooms add a sweet flavor to foods and is good to eat off the plant.

However one should be careful to get the bloom......

. .....instead of the leaf for the best flavor.
Daylilies and squash blossoms can be stir-fried, or batter-dipped and deep fried. Nasturtiums and mustard flowers lend a spicy flavor to casseroles. Bright yellow calendula flowers make an economical substitute for saffron.
On your first trial, go easy on the flowers. Eating too many blossoms can lead to upset stomachs, diarrhea and stomach cramps. Pick flowers in the morning or late afternoon when water content is at its peak. Choose only those blossoms that are free of insects, disease or other damage. When portions of edible flowers are desired, pull petals or edible portions from fresh flowers and snip off the petals from the base of the flower. Remember to always wash flowers thoroughly and make certain any chemical or organic pesticide has been removed. Give them a gentle bath in salt water and then dip the petals in ice to perk them up. Drain on paper towels. For later marketing, petals and whole flowers may be stored a short time in plastic bags in refrigeration. Freeze whole small flowers in ice rings or cubes. Some flowers to choose from are: Calendulas (pot-marigolds), carnations (pinks), chamomile, chrysanthemums, dandelions, daylilies, gardenias, geraniums, gladiolus, lavenders, lilies, nasturtiums, pansies, peonies, primroses, roses, squash blossoms, sweet violets and yucca blossoms have different edible portions that are nutritious and tasty. Some flowers are not edible but many are and can be chosen for their desirable uses. Buds, flowers, leaves, stems and roots are selected from designated edible varieties.
RECOMMENDED PLANTS WITH EDIBLE FLOWERS PLANT NAMES:

Abelmoschus aesculentus --- Okra, gumbo, gombo
Alcea rosea -- Hollyhock
Allium schoenoprasum -- Chive
Allium tuberosum -- Garlic chive
Anethum graveolens -- Dill
Begonia x tuberhybrida -- Tuberous begonia

These are the most versatile annuals in Texas--fibrous-rooted begonias. They are pretty enough to eat!!!

These begonias are smaller but just as tasty as tuberous begonia flowers.

Nice froggy likes to watch Cody eat begonia flowers

Brassica spp. -- Broccoli, cauliflower
Calendula officinalis -- Calendula, pot marigold
Cercis canadensis -- Redbud
Chrysanthemum coronarium -- Garland chrysanthemum
Chrysanthemum leucanthemum -- Oxeye daisy
Citrus sinensis * Orange
Coriandrum sativum --
Cucurbita spp. -- Squash or pumpkin
Cynara scolymus -- Artichoke
Dendranthema x grandiflorum -- Chrysanthemum
Dianthus spp. -- Dianthus or pinks soil.
Feijoa sellowiana -- Pineapple guava
Foeniculum vulgare -- Fennel
Gladiolus spp. -- Gladiolus
Hemerocallis fulva -- Daylily P
Hibiscus rosa-sinensis -- Hibiscus, China rose, Rose-of-China Hibiscus syriacus -- Rose-of-Sharon
Lavandula angustifolia -- Lavender
Malus spp. -- Apple or crabapple
Melissa officinalis -- Lemon balm
Mentha spp. -- Mint
Muscari atlanticum, M. botryoides -- Grape hyacinth
Ocimum basilicum -- Basil
Origanum spp. -- Oregano
Pelargonium spp. -- Scented geranium
Phaseolus coccineus -- Scarlet runner bean
Pisum sativum -- Garden pea
Prunus spp. -- Plum
Raphanus sativus -- Radish
Rosa spp. -- Rose
Rosmarinus officinalis -- Rosemary
Salvia elegans -- Pineapple sage
Salvia officinalis -- Garden sage
Even though Salvia greggi blooms are plentiful they don't have the best after-taste.

These Salvia farinacea (Mealy Sage) hybrid's blooms are beautiful blue........

. ...and soft to the touch.....

.....this Aggie offspring is wondering why deer won't eat most Salvias!!!

After a little taste.......

. ....Cody realizes those deer KNOW what tastes good and what doesn't.

Deer won't eat Ruellia either--and for good reason--they taste TERRIBLE!!!!.
Syringa vulgaris -- Lilac
Tagetes erecta -- African marigold
Tagetes tenuifolia -- Signet marigold
Taraxacum officinale -- Dandelion P
Thymus spp. -- Thyme
Tropaeolum majus -- Nasturtium
Tulbaghia ciolacea -- Society garlic
Tulipa spp. -- Tulip
Viola odorata -- Violet Viola x wittrockiana
Viola tricolor -- Pansy or Johnny Jump-Up
Yucca filamentosa -- Yucca
We DO NOT provide information about flowers NOT ON THIS LIST.