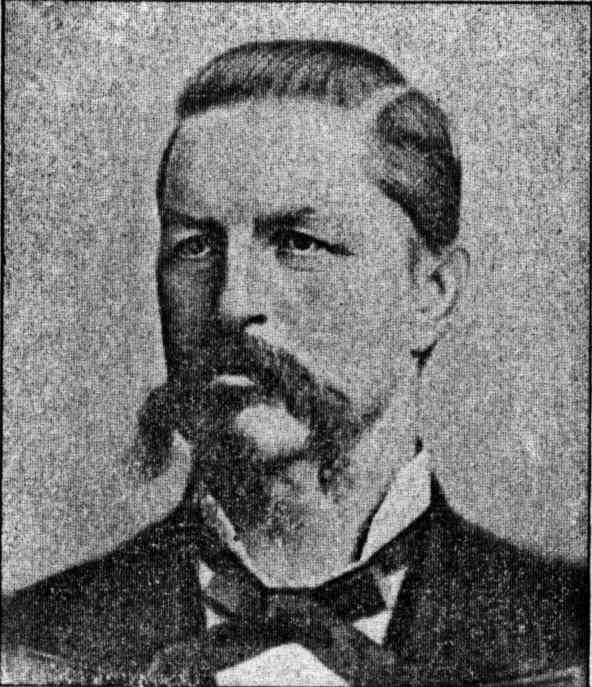 William H. Watson (1835-1897)

In July, 1859, a former subject of Queen Victoria made his home in Washington County. William Watson and his wife Sarah Warren immigrated from Ireland to settle in Brenham. Watson had established his nursery "Rosedale" by 1860, but he interrupted his horticultural career to serve in the Confederate Army. After the War, he hurried to resume his business. Sarah died of yellow fever during the terrible epidemic of 1869, and Watson later re-married Carrie J. Thomason. In 1870, he purchased sixty acres near Brenham from J.E. Shepard which he paid for with products from his nursery.
In 1871, Mr. Watson was one of the incorporators of the "Victoria Society of Washington County" to encourage British immigration into Texas, and was instrumental in bringing to Texas the horticulturists William Falconer, John T. Herbert, and W.A. Yates.
During the 1870s the reputation of Rosedale grew, and Watson purchased additional acreage adjoining his original homestead. His foremost introduction was the Rosedale arborvitae, an evergreen shrub, which he sent out in 1874. According to the 1899 William Watson Rosedale Nursery catalog, this plant was their own garden hybrid between the golden arborvitae (Biota aurea) and Rentinospora squarrosa.
In 1875 he was vice-president of the Texas Horticultural and Pomological Association, and a member of its board of trustees.
In 1876, Watson's ad in the Brenham Daily Banner proclaimed that, "The Gardens, Grounds, and whole Nursery Stock, are free for inspection at all times to the public." Besides ornamental plants, he stocked "A large and choice selection of Apple, Pear, Peach, Nectarine, Apricot, Quince, Almond, Chestnut and other trees."
Some of Watson's sons helped him in the business: David H. Watson who developed the "Nona" (named for David's wife) and "Watson" plums, John and Stanley who owned and managed Rosedale after their father's death and perhaps Archie Watson and W. E. Watson. Other helpers at Rosedale were of a high caliber, among them Wm. A. Yates, John T. Herbert, William W. Haupt, D.R. Eldred, William Falconer and William and James B. Baker.
Because of William Watson's preeminence in his chosen field, he was elected president of the Texas State Horticultural Society in 1889, and hosted its third annual meeting at Rosedale.
The opening excerpt from the 1899 catalog reads: "To the Memory of William Watson, the founder of the Rosedale Nurseries, one of the pioneers in Southern horticulture, who devoted the best years of a long and useful life to the upbuilding , and the development of horticulture in Texas, we lovingly dedicate this Catalogue of the Rosedale Nurseries, in which he took such pride, together with our earnest endeavors to be worthily his successors. Stanley H. Watson, Proprietor, John Watson, Manager."
"Just a word to those who receive this catalog. We have great pleasure in presenting to our friends and patrons, and to those we hope to make friends and patrons, this new edition of our Illustrated Descriptive Catalogue. At the beginning of this, the thirty-ninth year of the existence of our business, only a few words of introduction will be neccessary."
"This Catalogue is intended especially to be distributed among our old friends and customers, some of whom, for the past thirty years and more, have regularly favored us with their orders. We do not pretend to give in the following pages a list of all the varieties that will do well in the South, but only a few that we have fruited here at Rosedale, and that we recommend to our customers in Texas."
"The Rosedale Nurseries are the oldest in Texas, and among the oldest in the South. We refer, with pardonable pride, to the fact that we numbered among our customers last season some of those who bought trees from us a third of a century ago. We are proud of the record. It is evidence of fair dealing with our patrons, a high standard in our products, and prices consistent with the quality of our trees."
"To those not personally acquainted with us, we will say that this is the second generation now conducting our nurseries. When the founder of the business, the late William Watson, after a life spent in the study of the possibilities of Texas horticulture, rested from his labors, he left Rosedale Nurseries to the care of his sons, Stanley H. Watson, the present proprietor of the business, and John Watson, the manager,--the ownership of the Rosedale Nurseries and all property connected therewith resting in their mother. Our highest aim shall be so to conduct the nurseries as to merit the same confidence and trust imposed in our father by thousands of friends and patrons throughout this state and elsewhere. Being under our personal direction, every department of this nursery business will be carefully conducted."
William Watson died in Brenham on August 19, 1897.