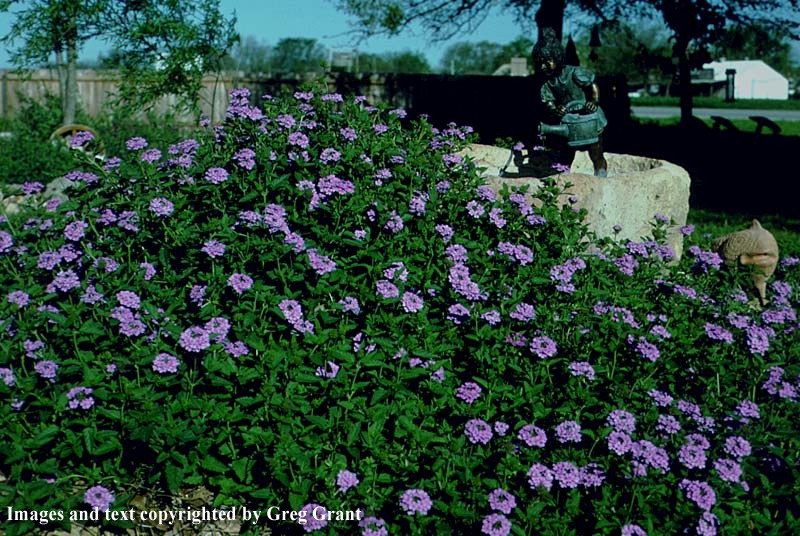 Verbena x hybrida
'Blue Princess'
(Blue Princess Verbena)
Verbena x hybrida 'Blue Princess' Blue Princess Verbena was originally purchased at the Royal Horticultural Society's Nursery at Wisley in England by Greg Grant while Director of Research and Development at Lone Star Growers in San Antonio. Blue Princess Verbena is a vigorous spreading type perennial verbena with a profusion of showy lavender-blue flowers on the new shoots. It has shown both increased heat and cold tolerance under Texas conditions. It can be hardy to zone 7b but like other perennial verbenas resents rapid temperature drops and cold wet soil. For best performance it requires full sun, good drainage and frequent shearings to about one foot. Ultimate spread can easily reach four feet. All verbenas grow and bloom best in the cooler temperatures of spring and fall and have a tendency to "bloom themselves out" during the summer. Propagation is relatively simple from cuttings and division. Blue Princess Verbena is a 1998 Texas A&M CEMAP promotion. In the near future look for white, pink, and purple forms to be available as well.
Name: Verbena x hybrida 'Blue Princess'
Common Name: Blue Princess Verbena
Family: Verbenaceae
Life Cycle: Perennial or annual north of zone 7
Zones: 7-10
Flower Color: Lavender-blue
Soil Moisture: Average, well drained with moisture
Site: Full sun
Bloom Time: Early spring through fall
Size and Spread: 1' tall, 4' wide
Editor's Notes: I picked this verbena up at the Royal Horticulture Society's Nursery at Wisely, England while Director of Research and Development for Lone Star Growers in 1995. It has since turned out to be the top verbena in our Texas trials, providing both improved heat and cold tolerance. In our extremely hot summers, it far outperforms Homestead Purple.
Blue Princess has prolific, lightly fragrant flowers, healthy, mildew resistant foliage and an extremely vigorous growth habit. Best performance is obtained by shearing the spent flowers monthly and providing a light fertilization in both spring and fall. The most common insect problem is the flea hopper, often mistaken for spider mites, which is best controlled by shearing.
Although not true blue (I didn't name it by the way!), the lightly fragrant flowers are a fantastic butterfly attractant. They also make excellent little cut flowers in small decorative vases (they look great clustered in old cobalt blue Vicks bottles). For an added treat, dry them and they turn electric blue!
Because of its superior performance, Blue Princess verbena has been designated both a Texas Super Star and a Mississippi Medallion plant (as 'Biloxi Blue' verbena).
It is available from many retail garden centers as well as mail order from Tony Avent's Plant Delights Nursery in Raleigh, North Carolina.