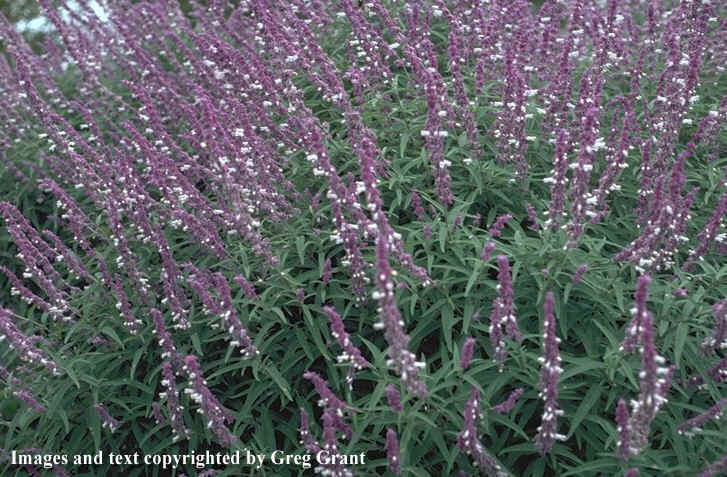 Salvia leucantha
Mexican Bush Sage
The latest in a long line of successful Texas A&M CEMAP plants is the Mexican Bush Sage (Salvia leucantha). Texas A&M's Coordinated Educational Marketing and Assistance Program (CEMAP) evaluates a number of plants each year in order to find those most suitable to the harsh Texas climate. Other 1997 CEMAP plants were the Merced tomato and trailing lantana (Lantana montevidensis). This stately beauty has earned its stripes because of its drought tolerance, pest resistance, and adaptability to a wide range of soils, including alkaline clays and acid sands. It has also been reported to be among the "deer proof" plants for the Texas Hill Country.
Mexican Bush Sage is a late summer and fall blooming tender perennial from Mexico, as its name implies. The sturdy silver-gray foliaged plants can easily reach three feet or more in height crowned by spectacular, velvety spikes of violet-purple and white. There's also a form with solid purple spikes. In addition to their landscape appeal, the stately spikes can also be used as dramatic cut flowers.
Although perennial in its native habit, Salvia leucantha is only reliably perennial in the lower one third of Texas (zones 8b-10). The middle third of Texas can help the plant over winter by planting them in a well drained location and protecting the roots and crown with a thick layer of insulating organic mulch (hay, straw, compost, etc...). The northern third of the state can enjoy this low maintenance stalwart as a low maintenance annual.
This drought tolerant Mexican native prefers sunny, well-drained sites and will survive with no supplemental irrigation is most parts of the state. In order to promote an abundance of late summer and fall flowering spikes, the plant should be sheared several times during the summer months. The subsequent regrowth produces a sturdier more compact plant as well.
Unlike the annual red salvia (Salvia splendens) which often succumbs to intense heat and drought, Mexican Bush Sage actually thrives during our typical desert like summers.
Mexican Bush Sage can be used a massed bedding plant, a container plant in large pots, as a part of a mixed perennial border, or as a landscape specimen.
Drought tolerant perennial with showy spikes of purple and white flowers in the fall. Zone 8.
Exposure: Full sun
Size: 3'T x 3'W
Bloom Time: Fall
Uses: Bedding, specimen, perennial border, containers, or cutflower.