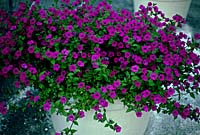 Petunia violacea 'VIP'
"Violet in Profusion" Petunia
Amazing Small Flowered Petunia Species
Flowers: Fragrant, small bell shaped flowers. Prolific bloomer throughout the year.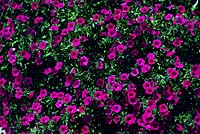 Exposure: Full sun to part shade. Very heat tolerant.
Water: Medium-low. Well drained areas.
Habit: Trailing groundcover type petunia. Up to four feet wide and one foot high.
Uses: Self-sterile species petunia which is tough and heat tolerant. Will survive when other petunias fail. Perfect in landscapes as a colorful annual bedding plant/ground cover or in containers for its trailing habit. A 1999 Texas A&M CEMAP promotion. A Greg Grant selection from seed brought back from Stuttgart, German.
Sources: King's Nursery in Tenaha (King's Nursery, Hwy 84 East, Tenaha,Texas 75974 409-248-3811), Treesearch Farms in Houston, and Peterson Brother's Greenhouses in San Antonio.