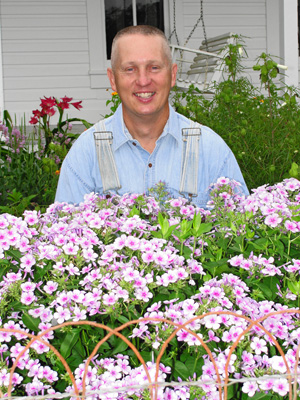 Greg Grant
Greg Grant is an award-winning horticulturist, writer, conservationist, and seventh-generation Texan from Arcadia, Texas. He is author of In Greg's Garden-A Pineywoods Perspective on Gardening, Nature, and Family and Texas Fruit and Vegetable Gardening, and co-author of Heirloom Gardening in the South, Texas Home Landscaping, and The Rose Rustlers. He also writes the popular "In Greg's Garden" column for Texas Gardener magazine and writes a monthly "Greg's Ramblings" blog. His real job however is the Smith County horticulturist for the Texas A&M AgriLife Extension Service in Tyler, Texas.
He has degrees in floriculture and horticulture, both from Texas A&M University and has attended post graduate classes at Louisiana State University, North Carolina State University, and Stephen F. Austin State University. He has previous experience as a horticulturist with SFA Gardens, Mercer Arboretum, and San Antonio Botanical Gardens, an instructor at Stephen F. Austin and Louisiana State Universities, director of research and development at Lone Star Growers, and with the famed Antique Rose Emporium.
Greg has introduced a number of successful plants to the Southern nursery industry including: Blue Princess verbena, dwarf pink Mexican petunia, Gold Star esperanza, Laura Bush petunia, John Fanick phlox, Stars and Stripes pentas, Pam's Pink honeysuckle, Lecompte and Flora Ann vitex, Henry and Augusta Duelberg sages, Big Momma and Pam Puryear Turk's Cap, Peppermint Flare hibiscus, and the Marie Daly and Nacogdoches (Grandma's Yellow) roses. He was presented the Superior Service Award by the Texas Agricultural Extension Service, the Lynn Lowery Memorial Award by the Native Plant Society of Texas for horticultural achievement in the field of Texas native plants, and the Lone Star Land Steward Award by Texas Parks and Wildlife. Heirloom Gardening in the South was also a Garden Writers Association Silver Award recipient.
He has traveled extensively to hundreds of botanical gardens throughout the United States and Europe and has given over one thousand entertaining, story filled lectures. He is a graduate of the Benz School of Floral Design, a member of the Garden Writers Association of America, and a lifetime member of the Native Plant Society of Texas, the Southern Garden History Society, and the Texas Bluebird Society. His garden, farm, and plant introductions have been featured in many magazines and newspapers including Southern Living, Woman's Day, Texas Gardener, Neil Sperry's Gardens, The Dallas Morning News, The Houston Chronicle, and The San Antonio Express News.
Greg and his wife live in the Pineywoods of Deep East Texas in Greg's grandparent's dogtrot farmhouse, where they tend a small cottage garden, his Rebel Eloy Emanis Pine Savanna and Bird Sanctuary, a little flock of laying hens, four terriers, and two cats.
Revised 10/31/2017